WHEN/WHERE WERE YOU BORN? December 7th; West Palm Beach Florida
WHAT IS YOUR POSITION AT POP'S FISH MARKET? Retail/ manager of Pop's Fish and Ships!
WHO IS YOUR HERO? Lord Jesus Christ and my Mom and Dad
WHAT IS YOUR FAVORITE QUOTE? For I am convinced that neither death nor life, neither angels nor demons,neither the present nor the future,nor any powers,39 neither height nor depth, nor anything else in all creation, will be able to separate us from the love of God that is in Christ Jesus our Lord. Romans 8:38-39
HOBBIES OUTSIDE OF POP'S? Being with my family on Sunday! Fishing, going to the gym, volleyball, softball, being with my friends. Just enjoying the beautiful weather in Florida!
FUTURE GOALS? My future goal is to make Pop's Fish Market number one! Pop's is a historical seafood business in Florida but I want Pop's to be a historical business world wide. I want to make a name for ourselves. I also want to be just like my parents…Godly, loving, caring and successful people and to raise a big family and give my kids the love and guidance that my parents gave me.
FAVORITE SEAFOOD AT POP'S FISH MARKET? Sword fish, lion fish, Pop's extra large cooked shrimp dipped in our homemade mustard sauce, clam dip, spinach and crab dip, scallop imperials. I know this is not seafood but our key lime pie is out of this world!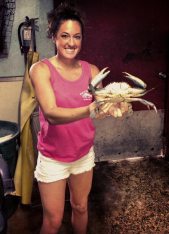 WHAT IS YOUR FAVORITE MEMORY WHILE WORKING AT POP'S? Hitting my little brother Christopher in the face with a rainbow trout! Hitting each other with snowballs from the freezer! But also just being able to be with my family everyday…not many people get to do that!