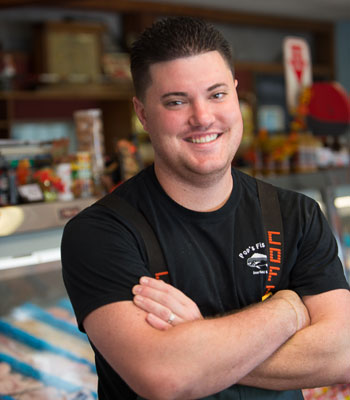 WHEN/WHERE WERE YOU BORN? August 30th; West Palm Beach Florida
WHAT IS YOUR POSITION AT POP'S FISH MARKET? Wholesale/ retail manager
WHO IS YOUR HERO? My dad
WHAT IS YOUR FAVORITE QUOTE? "Nothing great in life is achieved when you hold back."
HOBBIES OUTSIDE OF POP'S? fishing, diving, jiu jitsu
FUTURE GOALS? Make a name for Pop's throughout the country.
FAVORITE SEAFOOD AT POP'S FISH MARKET? Sword fish and shrimp
WHAT IS YOUR FAVORITE MEMORY WHILE WORKING AT POP'S? Arsdale( number two MMA trainer in the country) walked through the door and we talked MMA/ fighting for over an hour. He didn't have to take the time for that but he did!